When you buy or sell a home, having a great home Inspector is crucial to the process. Read some of our tips and stories below for a more in-depth look into home inspection! Whether you are looking to buy or sell a home in Monmouth or Ocean County, NJ, the posts below will help you get a better idea of how our process really works for all of our clients.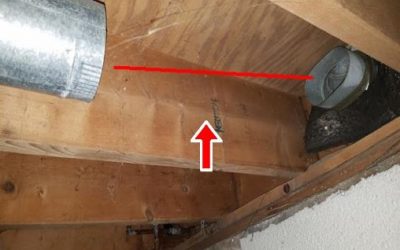 The third situation is the most dangerous and could have been deadly. The exhaust flew from the furnace had become disconnected allowing all the exhaust from the furnace to be put into the crawl space. This exhaust contains deadly carbon monoxide gas.
read more
Fast and Accurate Inspection Reports
After every inspection, I deliver your digital  inspection report within 48 hours. You get a full, written report with lots of pictures. I'll sit down with you to go over my findings, and I remain available to you by phone if you have follow-up questions. I'm there for you when you need me.
My home inspection reports are created electronically using HomeGauge Software; you can easily access your report online using your smartphone or computer. I also offer a digital tool called the Create Request List™ (CRL™) that allows you to pick items on the inspection report to put into a repair list. You can then send the list to your Realtor, your seller and/or your homebuilder. The CRL™ keeps everyone involved on the same page.
Other Inspection Services
While performing your home inspection, I can also do the following specialized services. These add-on services help ensure your safety in the home. All of them are often recommended:
Termite Testing:

A termite infestation is serious and must be dealt with promptly. This test looks for evidence of termites in the structure of your home, inside and out.
Radon Testing:

Radon is a cancer-causing gas that's odorless and colorless. I have radon-detecting monitors that will reveal whether or not it's present in your home.
Mold Testing:

Mold can put dangerous allergens in the air circulation of your home, which can affect children, the elderly, and anyone with asthma. I provide mold testing for your home to prevent any health problems.
Contact Us
Give me a call or click here to schedule your complete home inspection from an experienced professional!
License #24GI00148300